Fuck. Mother fuck. Amazing. Like, truly awesome and amazing. Not "amazing" like fat retards who are blown away by the idea of cheese-stuffed crust on a pizza, but I mean I experienced true awe this weekend. I'm normally not one to get all quasi-fagmo-spiritual about "journeys" I experience, but this weekend was so much fun. I blew loads of cash. I remained between completely and mostly sober the entire time. I ate food that spanned the range of bum rejects and kingly delights. I met and chatted with lots of cool people. I ran into a couple people I (sorta) knew and completely did not expect to see there. I fucked my girlfriend in the tent in the middle of the day with people walking by us. I saw Jon Gossard double-fisting a Pabst and a craft brew and almost falling over drunk several times while watching a Munly and the Lupercalians set. I saw and did it all. Speaking of seeing, the sound people did an amazing job. For real. Usually I experience
worse
sound at outdoor festivals, but I heard perfect to near-perfect sound from every band I watched. And the visuals were serene. Great performances from artists with outstanding energy and chemistry all housed on stage setups amongst a beautiful and natural setting.
Friday: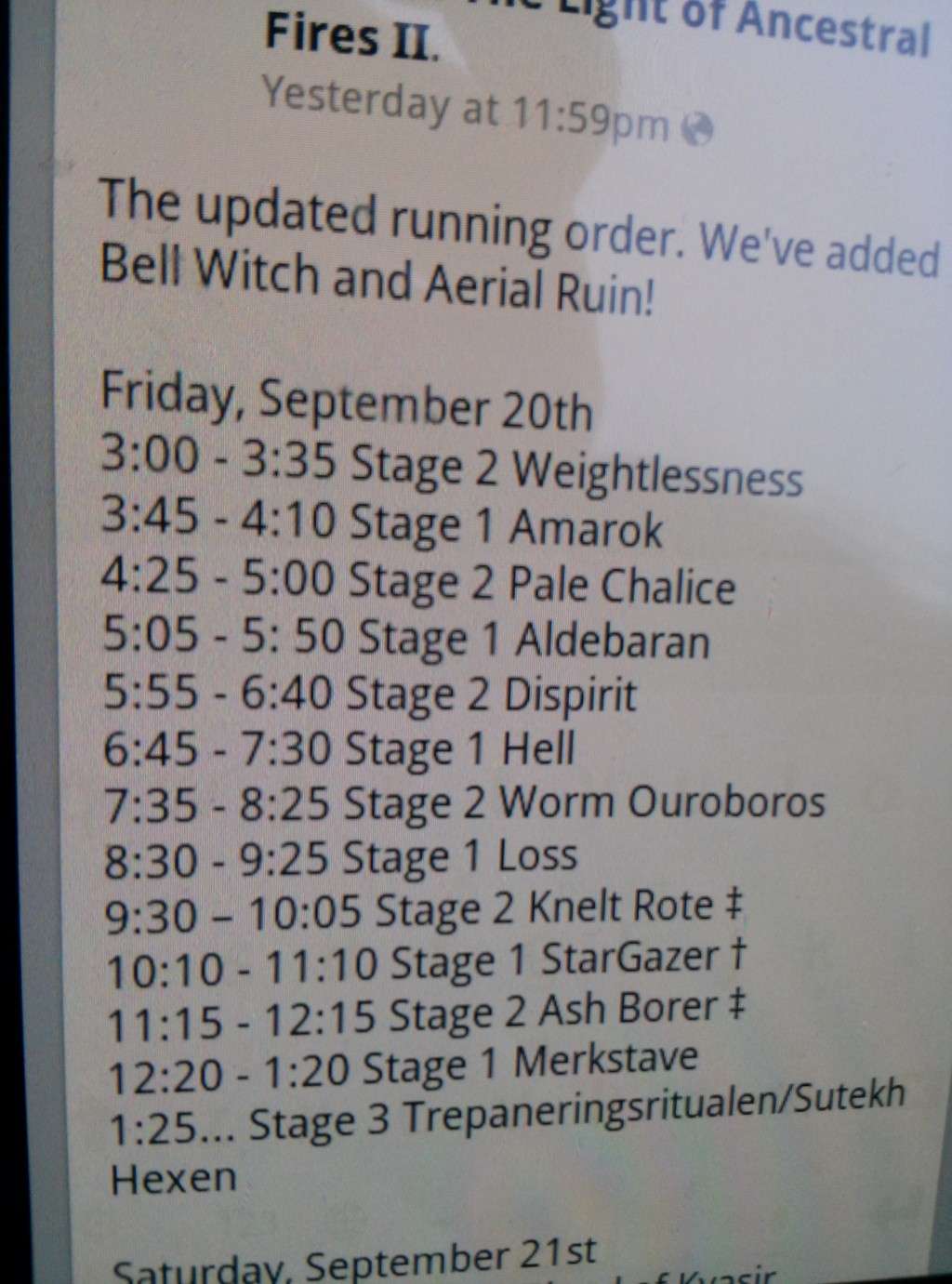 First of all, Stage 2 had sound issues and started late. Secondly, the specific regimented running order could be described as rudimentary at best. Sets, setups, breakdowns and sound checks were all running long the entire weekend. Amarok and Aldebaran both I had heard online before, never had much of a liking for them, but enjoyed both sets. Pale Chalice I disappointingly missed the majority of, but the little of what I heard they sounded really good. Dispirit, Hell, Worm Ouroboros and Loss back-to-back-to-back-to-back was fucking amazing. They all killed. Hell was the only one I'd not seen before, so they were the most surprising. Like I said above, the sound crew did a stellar job all-around, so seeing Hell in basically perfect conditions made for a really nice live introduction to them. Knelt Rote I only saw a bit of, but I'd seen them before and they were never really my thing so we went back to camp for food and drinks. I wanted to return to the stages to see StarGazer, Ash Borer and Merkstave, but my girlfriend was in a lot of pain from walking and standing all day and I didn't want to leave her behind so we stayed at camp. StarGazer and Merkstave I'm not really that in to, I just was curious to see them play, and Ash Borer I'd seen a couple times before so it wasn't the biggest loss, just kind of disappointing.
Saturday:
This shit
happened, so
this shit
didn't happen.
Actually, we were a little below that level, so we mostly got heavy rain and only a little bit of snow. But yeah, at 5:45 a.m. it started pouring rain. We stayed in the tent, trying to be as (relatively) warm and dry as we possibly could. Our phones had no service, so we couldn't check to see if there were any FaceBook updates about the schedule, so at a little before noon we finally got up and frigidly stumbled toward the stages. Most people who weren't still walking somewhere or huddled around various campfires were gathered out in front of what was called the "main house" which featured an impromptu fourth stage which basically consisted of a larger and reinforced E-Z Up tent and chairs set up on grass for acoustic bands to play. We watched a couple, and they were good but nothing we were loving, and we finally heard the word that all main stage sets were cancelled for the day (part of stage 1 even collapsed because of the wind and rain), and that even those who they scheduled as smaller acoustic bands on the fourth stage were cancelling (I think only like four bands played in the rain on Saturday). By about 4 o' clock we finally decided that there wasn't much to stick around for besides being uncomfortable and getting a cold while seeing a very short list of remaining bands that we weren't really in to. So we went back to camp and packed up the valuables but left the tent and some other camping supplies that were too wet and that we didn't want to break down. Halfway through is when snowflakes started to drop intermixed with the rain. By the time we were done packing the car and driving out it was snowing more heavily, which was cool to see, but kind of served as extra affirmation that we'd made the good decision to drive home. We got back into town, showered, cooked steak and had wine. Any feeling of being a poser or sell-out for leaving the rain for a shower and warm bed had completely vanished lol
Sunday:
This
and
this
were forced to combine into
this
and
this
. So yes, there were some casualties due to the rain. But honestly, the only band who didn't get to play at all that I really wanted to see were Denver Broncos UK, so it wasn't devastating to me. More unfortunate though was that because they were trying to squeeze so many extra bands into the Sunday schedule there was basically zero schedule staggering going on, which turned into many third-, half- and two-thirds sets that we kept seeing. So it was a lot of guesswork and sacrificing part of one band's set to ensure that we still were able to see at least a part of another's.
Anyway, Male Dicere, Saturnalia Temple, The Fools, Common Eider, King Eider, Bell Witch and Hail, all at the beginning of the day, were probably the biggest sufferers of set-splicing that we experienced. This was more by choice though, since they were bands that either we'd seen before, didn't know or didn't really dig a whole lot, so it was ok. We did lots of moseying between sets, stopping and looking at merch tables, a trip or two back to camp, checked out the river, etc. This was some of the stuff we saw:

I normally take pretty shitty pictures, but that one I thought came out ok and serves as a decent representation of the type of environment that we were in. I didn't really attempt to take too many others. I was too busy and having too good a time to really bother with pausing to take my phone out to take what I knew would likely be a shitty picture. My girlfriend took a good deal more than I did, but half of them were secret candid shots of me drooling while inspecting merch at the venders' tables.
Velnias was the first act of Sunday that we really wanted to see and were both liking a great deal, so we planted for their whole set (well, we missed a litlle of their beginning). After that, we took a break and went back to camp, missing Jarboe and Waldteufel entirely. Waldteufel I really just didn't know at all, and Jarboe I kinda wanted to see just out of curiosity for the setlist and how varied it would be, but I've never been too keen on anything that can be called "solo" from her so I didn't mind this being the time for a break. We made it back for
Hexvessel
, and they were so good they inspired me to take the second of only two pictures I took of bands the entire time lol (the first being
Worm Ouroboros
). We then saw about the middle half of Lux Interna (the band that the curator of the entire festival is in) and they were pretty good, but we wanted to see as much of Esoteric as possible so we left early. FUCK. Esoteric completely destroyed. From here on out we basically stayed at Stage 1--save for a bit of firepit standing and wandering around, curiously checking out short pieces of other bands' sets and then casually moving on to something else--because it was where the rest of the bands we really wanted to see were playing. Munly and the Lupercalians had a really strange but cool stage set up and played well. Amber Asylum started playing for a heavily dwindled crowd at about 2:45 a.m., and it was sort of disappointing to see them play as only a 4-piece and with no cello, but they still slayed and had a cool video and light show. Then from 3:40 to 4:25 a.m., Slim Cessna's Auto Club, the best live band on earth, stepped up after a minimal sound check, exhaled thick clouds of vapory breath and proceeded to kick the shit out of fifty or so mostly-metal-and-folk-liking hippies and scumbags.
What an awesome festival. Even with Saturday being cancelled and thus Sunday also being compromised, it's one of the best concert experiences I've ever had; just plain one of the best weekends I've ever had. Oh yeah but it also made me broke.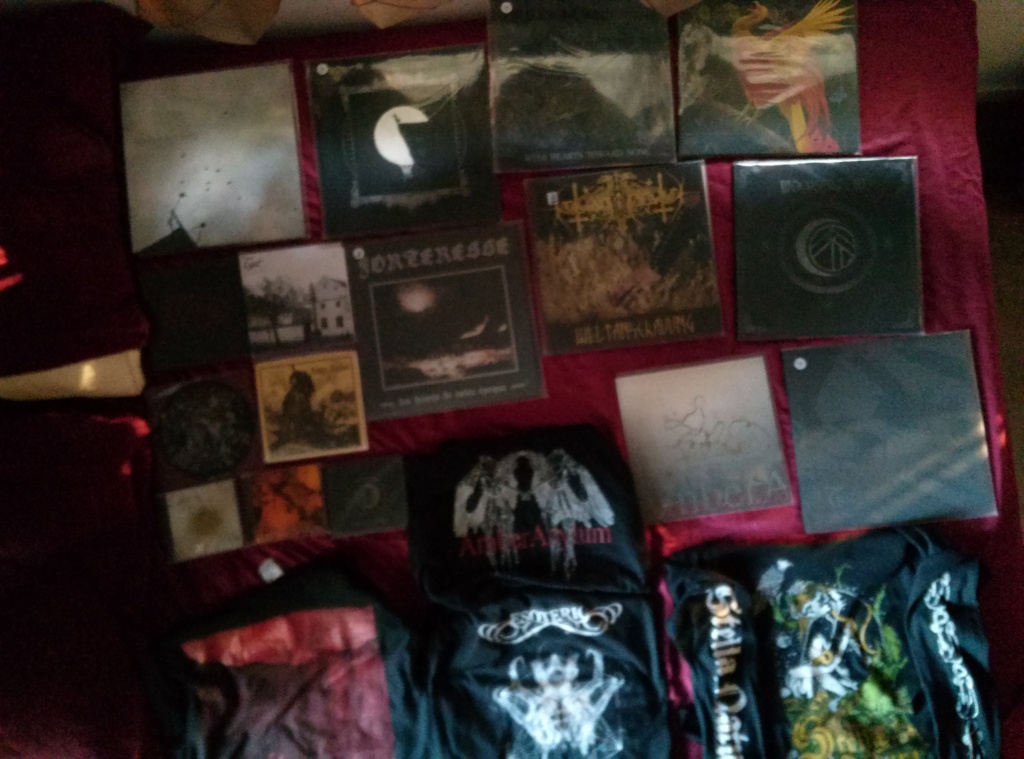 Backs of shirts from above pic as well as posters I grabbed: